Disclosure: Our site is supported by our readers. This post may contain Amazon Affiliate Links or links from other affiliate programs that pay us a small commission for purchases referred through them. Thank you in advance for your support!
One of the easiest ways to convert people who visit your business's website into customers is through autoresponders—automated email marketing messages that target new subscribers to your website.
Email autoresponders work best within a company's sales and marketing funnel, especially if you have developed your funnel through ClickFunnels. However, there are several types of autoresponders to choose from; how do you know what's best for your current funnel?
What are the best email autoresponders for ClickFunnels? Some of the best autoresponders that are compatible with ClickFunnels include:
ConvertKit
Constant Contact
Hubspot
MadMimi
MailChimp
Ontraport
Of course, each autoresponder brand offers its own set of unique features that may be more suitable for your business's needs. Read on to learn more about ClickFunnels and autoresponders, and which autoresponders are recommended to use with this popular sales and marketing software.
What Is ClickFunnels?
SPECIAL FREE AFFILIATE BONUS OFFER WHEN YOU SIGN UP FOR CLICKFUNNELS FREE 14 DAY TRIAL THROUGH OUR AFFILIATE LINK: GET OUR FULL 24 HOUR RANKING SYSTEM COURSE- GET UNLIMITED FREE TRAFFIC FROM GOOGLE & YOUTUBE TO ANY FUNNEL OR OFFER
ClickFunnels is an "online sales funnel builder that helps businesses market, sell, and deliver their products [and services] online." (Source: Finances Online)
A popular online marketing tool, ClickFunnels allow companies to develop a marketing and sales funnel from scratch as it contains all of the elements needed to have a highly efficient and effective sales funnel. Read our full explanation of ClickFunnels here.
How Do Sales & Marketing Funnels Work?
A sales funnel is a type of marketing strategy businesses used to convert people into interested or recurring customers.
Both online sales and marketing funnels function similarly to how you would imagine a normal, physical funnel would work. At the wider end of the funnel, towards the top, you have your online target market or a general audience you want to capture. Your goal is to channel them into your company's sales and marketing funnel (via your website) so that they're in a position to want to purchase your products or services by the time they reach the end.
But, not every person who visits your website will end up investing in what you have to offer, so how do you get them there? Sales and marketing funnels are designed to be broken into small, attainable goals and actionable items for your customers, so it becomes much easier for them to filter through. 
How Do ClickFunnels Work?
ClickFunnels provides your business with a funnel template that does just what a sales and marketing funnel is supposed to do. Based on your industry and business needs, ClickFunnels chooses a funnel from a library of over 30 templates that consists of the elements you will most likely need to convert new customers. Some of the categories of templates ClickFunnels offers include:
Optin Pages
Presell Pages
Sales Pages
Thank You Pages
One Time Offers (OTOs)
Order Forms
Affiliate Pages
Subscription Pages
Other Pages
Benefits of ClickFunnels
Cost-Efficient
Traditional online sales funnels require website hosting, landing pages, email autoresponders, and more to function properly and work effectively for your business. Having to acquire all of these tools can become very expensive.
ClickFunnels, on the other hand, provides all of these things in a single package or template best suited for your industry and what you have to offer customers, making it much more cost-efficient.
Saves Time
Similarly to how your business can save money by investing in an all-in-one ClickFunnel, you can also save the time it would usually take to set a traditional online sales funnel up. ClickFunnels offers a wide range of funnel types, each of which tailors to different types of businesses. Rather than having to create a sales funnel from the ground up, you can instantly save time by using one of the ClickFunnels templates.
User-Friendly
Finally, ClickFunnels' dashboard makes it very easy for new users to ClickFunnels to integrate personalized content within their sales funnel, such as animation, videos, and other elements. Users can also test their sales funnel for efficiency and effectiveness using the interface.
Autoresponders & ClickFunnels
As the name suggests, autoresponders are email marketing messages that are automatically sent out to potential customers who have visited and subscribed to your website. Autoresponders are great ways for businesses to maintain regular communication with potential customers, and usually, contain engaging information that keeps them interested in what your company has to offer.
Autoresponders are usually introduced into the early to late stages of the sales and marketing funnel, so it's important to make sure you have an autoresponder chosen to target potential customers lingering in these areas.
If you're at a loss of what kind of autoresponder is best fit for your business and ClickFunnel, ClickFunnels actually offers its own autoresponder software for businesses—Actionetics.
However, if you're looking for autoresponder features that Actionetics does not offer, ClickFunnels is compatible with quite a few different third-party autoresponders as well.
The 11 Best Autoresponders for ClickFunnels
If you're looking to transfer your current autoresponder to ClickFunnels, or are on the market for a new one to collaborate with your sales and marketing funnel, below are 11 of the best autoresponders your business can use with ClickFunnels.
SPECIAL FREE AFFILIATE BONUS OFFER WHEN YOU SIGN UP FOR CLICKFUNNELS FREE 14 DAY TRIAL THROUGH OUR AFFILIATE LINK: GET OUR FULL 24 HOUR RANKING SYSTEM COURSE- GET UNLIMITED FREE TRAFFIC FROM GOOGLE & YOUTUBE TO ANY FUNNEL OR OFFER
ClickFunnels' in-house tool, Actionetics, is the ideal autoresponder option for those who already have a ClickFunnels-based sales and marketing funnel. It integrates seamlessly into the existing ClickFunnels' software and can be accessed through the same ClickFunnels user-friendly dashboard.
Smart Lists
One of the more promising features Actionetics offers its users is its ability to create Smart Lists. Smart Lists can automatically delete or add contacts in an email list, based on a set of rule options you choose. Some of the rules integrated with Actionetics's Smart List include:
Contact Rules
Funnel Rules
Product Rules
Email Step Rules
The rule categories available in Actionetics are perfect for businesses who intend to segment their audience. For example, if you are interested in targeting only those who have had higher engagement with your emails, you can separate them into their own email list to receive exclusive content.
Unlimited Contacts
Another great feature of Actionetics is the ability to add as many new contacts as you like, without an increase in cost. This means you can continue to grow your email marketing list without worrying about overhead, and earn more profit while you're at it! 
Increased Automation
Actionetics can integrate contacts from Facebook, Twilio, Shopify, and Shipstation so you can reach the widest audience possible with your marketing messages.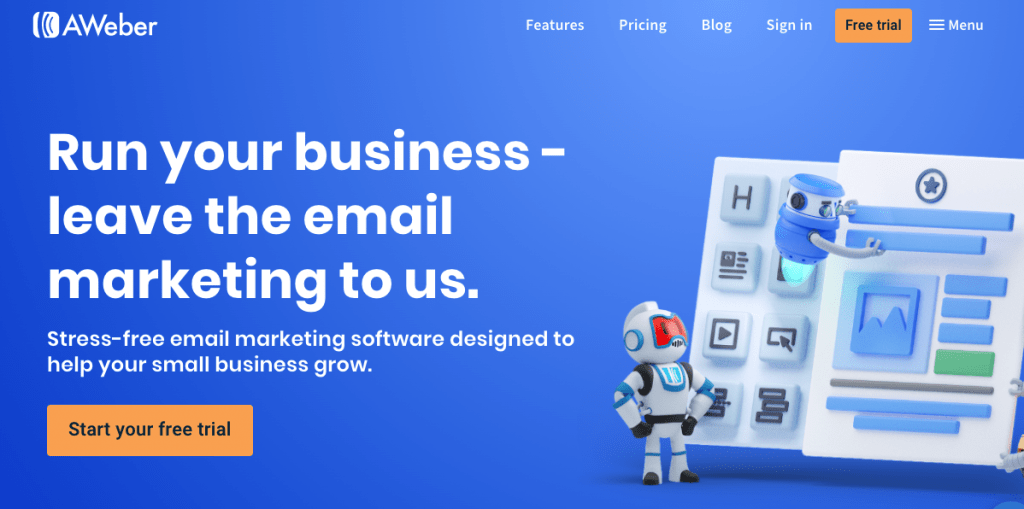 AWeber has been a long-time email autoresponder for bloggers, being among the first autoresponder tools available on the market. With its parent company, Aweber Communications involved in the email service provider game since 1998, it's no wonder why many businesses like to stick with "ole' reliable."
User-Friendly
AWeber is arguably one of the easier autoresponder platforms to use. Its campaign builder is simplified, so all you need to do is drag and drop sections to create your messages and follow-up sequences. On top of that, AWeber is known for its unbeatable customer service, so even if you do encounter issues, their customer support team is friendly, knowledgeable, and ready to help.
Customer Tracking with Tags
AWeber automatically creates and attaches tags to contacts who either open an email or click specific links in an email. With these tags, you can create segmented, more targeted email lists to create follow-ups for.
Create Multiple Forms
Unlike other email automation options, AWeber allows you to create multiple forms for a single email list. For example, if there's exclusive content on your website you would like to share users in exchange for their email address, you can use more than one email form for each piece of unique content you have, and all of the users who fill them out will end up on the same email list.
Other email automations require that you create a separate email list for each form you create on your website, which can be very time-consuming if your goal is only to have one main email list.
Keap (formally Infusionsoft) is an all-in-one CRM, sales, and marketing automation software mainly ideal for service providers who wish to find and manage new leads.
Send Invoices
Keap makes it easy for your clients to send you payments after receiving your services with its ability to create and send invoices. Clients have the ability to pay you through the email via credit card.
In addition, Keap allows you to send payment reminders for those who have not opened your email or paid through the application.
On top of that, Keap has a functionality that allows you to keep track of incoming money in addition to viewed, paid, or past due invoices.
Move People Through Your Sales Funnel
Keap allows you to create an automatic process for sending both texts and emails to new prospective customers based on where they are in your sales and marketing funnel. For example, you can create a series of messages that are automatically scheduled when you move a lead from one funnel stage to the next.
Service-Provider Friendly
Keap offers a variety of features that many service providers will appreciate having for their customers, including quotes and estimates generation, appointment booking, and more.
4. ConvertKit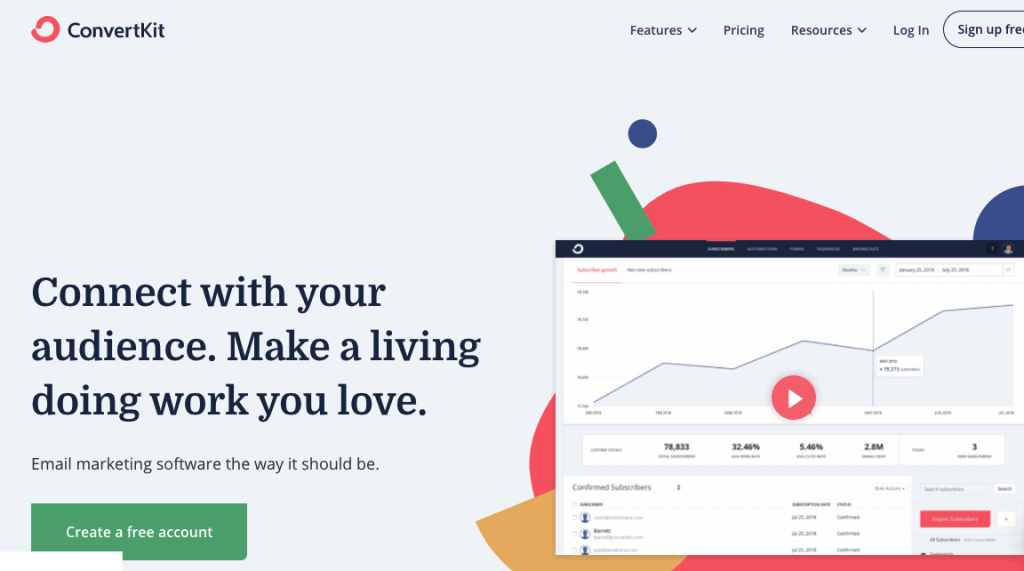 ConvertKit offers automated email marketing functions similar to many of the platforms included on this list; however, what makes it stand apart is its affordability and easy email segmentation.
Easy Visual Automation Editor
ConvertKit makes it easy for your marketing team to create an email automation system specific to your business. With its visual editor, you no longer have to open separate tabs or editor dashboards to update your auto-responses. The visual automation editor is also very straightforward and user-friendly for anyone in your marketing team to use.
Resend Campaigns
If you have a high unopened email rate, ConvertKit allows you to resend campaigns to the same email list as before to increase your chances of engagement.
Segment within Emails
With ConvertKit's conditional tags feature, you can segment individual emails. In other words, you can send out a single email that will look slightly different to different contacts. For example, if you are announcing a new product, but only want to offer existing rewards members with an exclusive coupon for it, you can create conditional tags to where only those specific contacts in your email list will see the added information about the coupon.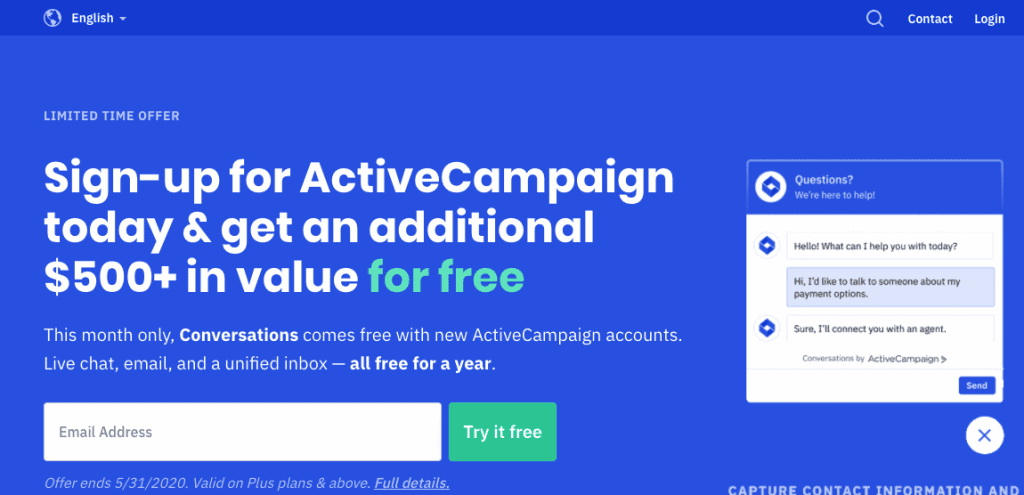 ActiveCampaign offers complete email marketing automation services in addition to being its own CRM platform.
Automation Features
ActiveCampaign is mostly known for its user-friendly visual automation editor that allows businesses to build custom email workflows. However, with this platform, you're not just restricted to email-related tasks; you can also schedule actions such as sending SMS messages, too.
Similar to AWeber, ActiveCampaign also uses assigned automated tags to allow you the flexibility of segmenting your email lists.
Scales Well for Growing Businesses
ActiveCampaign is a great auto-response email tool for businesses that are seeing a lot of growth or expansion. It offers a variety of plans for organizations of all sizes.
Resend Successful Campaigns
With ActiveCampaign, you can track and resend your more successful email campaigns. For example, if you sent out an earlier email campaign that had high engagement and resulted in more conversions, you have the option to send it again to your newer subscribers through the ActiveCampaign platform.
Additionally, you can also resend campaigns to subscribers who didn't open your original email to target them again.
6. Constant Contact
Constant Contact is one of the oldest email automation platforms around, with its early inception in 1995.
Email Segmentation Support
Constant Contact offers tagging and individual list capabilities to make it easy for your business to segment your email lists.
Library of Email Templates
No matter your industry, Constant Contact likely has an email template for you! With a large library of email templates, you're sure to find a template that matches your business type and offerings. On top of that, you can customize the templates to feature your company's branding.
Easy Email Builder
Constant Contact's email builder is based on a drag and drop system, making it easy to create and edit your own campaigns.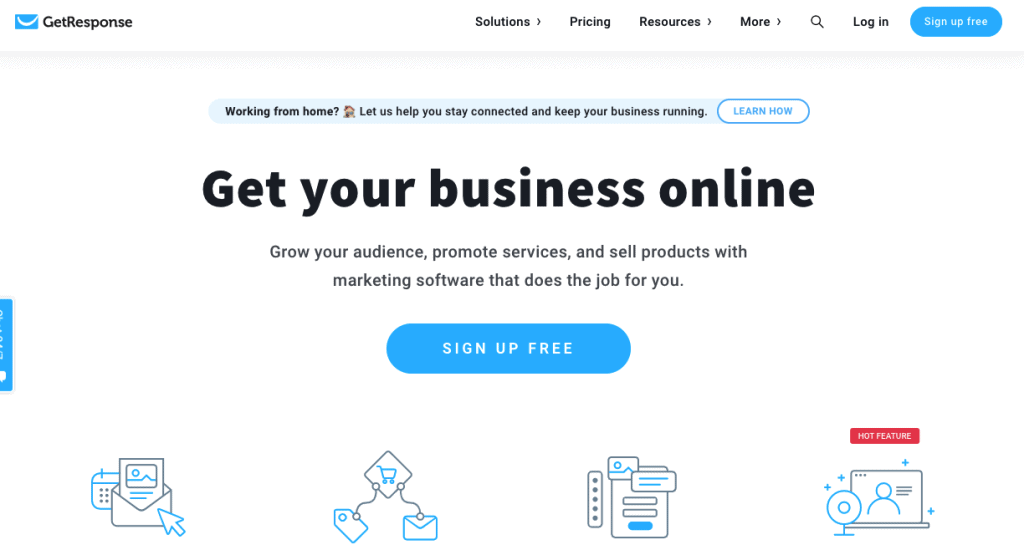 GetResponse is a great email service provider ideal for small businesses ready to see more growth. It allows you to send newsletters and autoresponders to your email lists and gives you the ability to manage leads in its built-in CRM.
Visual Automation Editor
Like many other platforms on this list, GetResponse has a visual automation editor features that allow users to build email automation and workflows both simple and complex.
Promote Live Events
With GetResponse, you can schedule campaigns to go out at a specific date and time, ideal for promoting any live events, such as webinars.
Different Form Types
Instead of offering one type of form for opt-ins, GetResponse provides a variety of form types that can integrate directly into your website. Some of the options include:
Fixed Bar Forms
Lightbox Popup Forms
Download Box Forms
Exit Popup Opt-In Forms
Scroll Form Opt-In Forms
Having different form options allows you to choose forms more relevant to your website and product and service offerings.
8. Hubspot
Hubspot is known for its comprehensive CRM in addition to its numerous marketing and sales software integrations, so it's no surprise that email automations are yet another service they offer.
Professional Email Templates
Hubspot offers a wide variety of customizable email templates that look professionally designed. You can edit each template to match your company's branding and message.
Smart Rules
Hubspot's email marketing platform includes Smart Rules, a feature that allows you to personalize emails to each type of subscriber, depending on where they are in your sales funnel.
Optimize Email Campaigns
With Hubspot's easy A/B testing features and detailed analytics, you can keep track of which campaigns are performing well, and which aren't.
9. MadMimi
MadMimi is an email service provider that specializes in making email marketing simplified and more fun to participate in.
Affordable Rates
MadMimi offers cost-effective plans for businesses of all sizes. The free plan is very generous, while its low-cost tiered plans provide much value on their own.
User-Friendly
If you are new to email automation and email marketing in general, MadMimi is for you. Its user-friendly interface makes the software easy to pick up, no matter your experience level. Its colorful, simple animations also make the program more fun to use for beginners.
10. MailChimp
MailChimp is one of the largest email service providers on the market. Its user-friendly dashboard, and forever free plan is great for businesses just getting started with their email marketing.
Forever Free Plan
MailChimp's Forever Free plan supports email lists with up to 2500 subscribers, ideal for startups and other small businesses interested in email marketing.
User-Friendly
MailChimp has a very clean, easy-to-use interface that anyone new to email marketing and automation can use. It offers straightforward A/B testing for campaigns and even provides simplified reports for your marketing team to review email engagement. 
Heavy Integration
This email service provider has the ability to integrate with most third-party applications and services, such as Shopify, ShipStation, Burst SMS, Drupal, Kabbage, Join by Text, Hootsuite, Eventbrite, Square, and many more.
Beautiful Email Templates
If your business does not already have its own email template design, MailChimp offers a large variety of clean, eye-catching email templates that you can use and customize to fit your business.
11. Ontraport
Ontraport offers a full-service email marketing platform with extensive automation features and a built-in CRM.
Flexible, Block-Based Editing
Ontraport's block-based editor allows users to put together forms, landing pages, and emails easily. Once you have learned how to edit one template, it is fairly simple to get the hang of editing other templates.
Versatile Campaign Builder
Ontraport has a visual campaign builder similar to other platforms. However, what makes this builder unique is the ability to show live statistics on where your contacts are at each stage of your email workflows.
User-Friendly
Not only does Ontraport have a great customer support system, but the software also has a contextual help feature, which helps you navigate and understand what each page is if you're new to the platform.
While Actionetics is the easiest choice for email autoresponder software to integrate with ClickFunnel sales and marketing funnels, there are also many other email autoresponder platforms to choose from. However, the software you end up going with will completely depend on your business needs, products, and services, and what you hope to get out of your email marketing efforts.