Disclosure: Our site is supported by our readers. This post may contain Amazon Affiliate Links or links from other affiliate programs that pay us a small commission for purchases referred through them. Thank you in advance for your support!

If you are a photographer that is looking to increase new leads, book more customers, and grow your business, then you may be considering adding ClickFunnels to your marketing efforts.
That means you've probably at least heard of the concept of sales funnels, which usually means being introduced to ClickFunnels shortly thereafter since it's the industry leader and most well-known funnel builder on the market.
In this complete article, we will give you a step-by-step to using ClickFunnels For Photographers which includes:
An introduction to marketing and/or sales funnels
A full explanation of ClickFunnels
How photographers can use it to increase leads, clients, and revenue
Limitations of the software
How To Get A FREE Trial & Bonuses
Leading Alternative
Continue reading this step by step guide to understand if how you can use ClickFunnels to accelerate the growth of your photography business. If you need help finding photography business name ideas- here is a great resource.
What Are Marketing/Sales Funnels?
Before we get into ClickFunnels, which is a software used to build marketing or sales funnels, it's important we level-set our understanding of what a sales funnel is.
It is important we demystify what a sales funnel actually is, if you are going to make a potential decision about adding it into your photography business.
So, what are sales funnels? An online sales funnel is simply a predesigned visitor journey meant to usher your potential customers through the different steps in your buying process.
There are many different types of sales funnels, each optimized specifically for the outcome you are trying to achieve from that website visitor.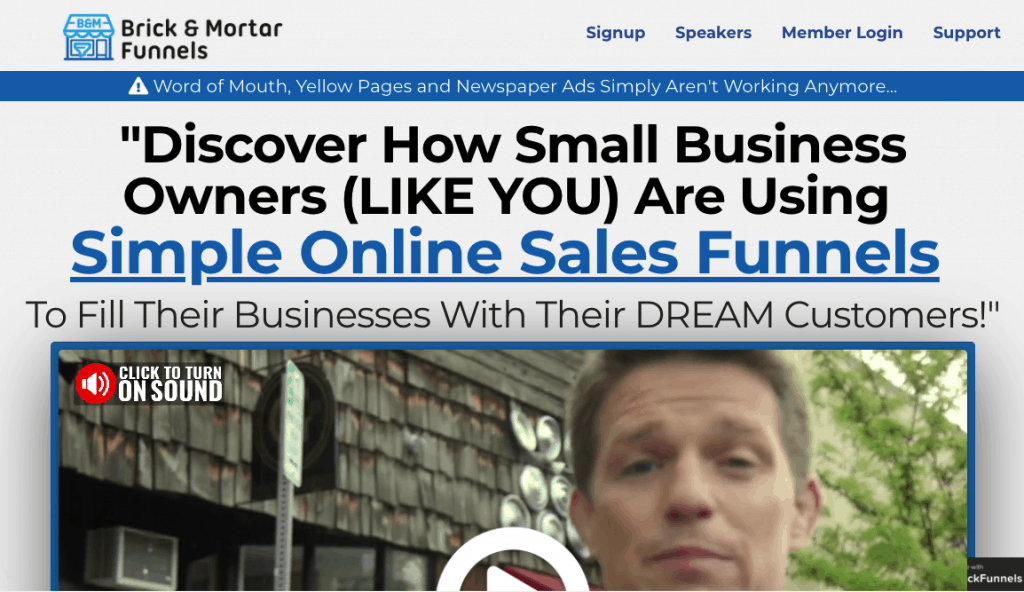 You can think of sales funnels as the next evolution in traditional websites. Not too long ago, off line businesses were deciding whether or not they needed a website.
Soon after, having a website became a basic business expectation and all businesses understood the importance of having an online presence.
While most photographers wouldn't dream of doing business without a website or online presence, unfortunately that same website often remains limited by traditional outdated concepts.
Traffic has become harder and harder to come by in every industry, but especially in photography. Which means it has become even more critical to make the most out of the traffic you do attract.
A sales funnel helps convert more of that traffic into leads and paying customers.
But, it doesn't stop there…
It also helps maximize the revenue from each of those customers by increasing average order values, by making it easier to upsell additional services.
That is where a sales funnel separates itself from a traditional website. We've teed up this quick video from Russel Brunson, the founder of ClickFunnels as he explains what a sales funnel is and how he became aware of how powerful and important they are in growing your business.
Now that you understand how a sales funnel differs from a regular website, let's take a specific look at how using a sales funnel in your photography business can help you increase the number of leads and paying customers that enter your business every day.
How Photographers Can Use Sales Funnels To Increase Leads
Remember how we defined a sales funnel as a predesigned online process of nurturing your website visitors through the buying journey in an optimized way?
Well, let's take a look at the first crucial step in that process. Turning more of those website visitors into leads.
No matter how you are driving traffic to your website or funnel, the fact of the matter is, the majority of first-time visitors won't buy on the first visit.
So, it becomes critical that you turn as many of these visitors or casual window shoppers into bonafide leads as possible. This only becomes more critical if you are paying for advertising to drive traffic to your website, as the more you spend for each visitor the more you will need to make from that traffic to turn a profit.
Converting more visitors to photography leads is the first place a proper sales funnel can impact your business. If you want to learn more about the best practices in creating successful lead funnels- check out 106 actual case studies of the world's most successful lead funnels.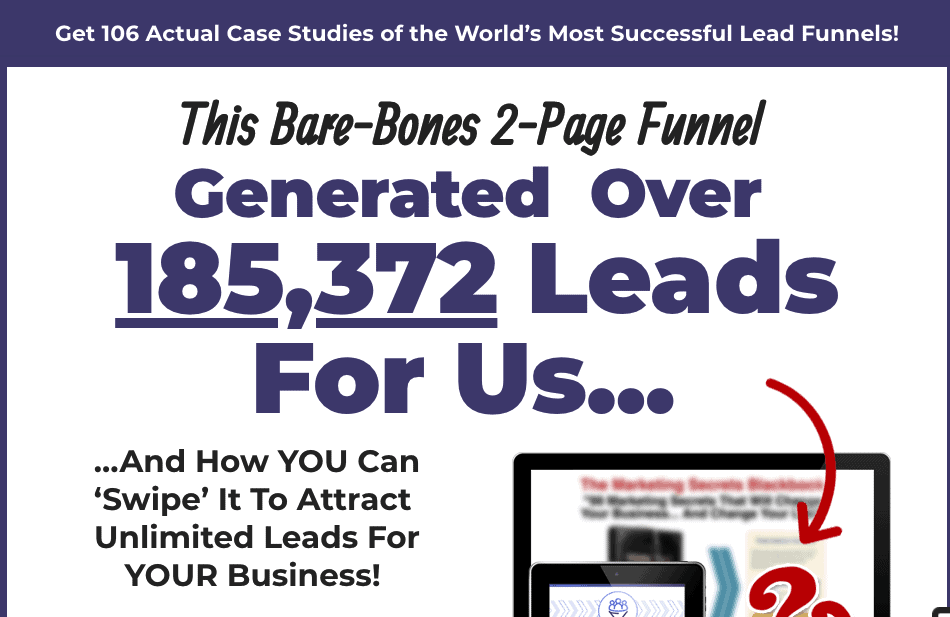 Creating Photography Lead Magnet Ideas
So, let's talk about setting up a proper lead generation sales funnel for your photography business.
The first thing you want to do is thank about what types of customers you are looking to attract. Do you specialize in wedding photography or maybe real estate agents are where you really excel.
The more you understand your target market the better you will be able to create attractive lead magnets to put in front of your website visitors, or should I say sales funnel visitors.
Remember this portion of your photography sales funnel is meant to turn website visitors into leads that you can build a relationship with and turn into paying customers by ushering through the remainder of your sales funnel.
If you cater to different types photography clients then I would recommend creating a tailored lead magnet for each of them. This will greatly increase your conversion. Once you convert a site visit into a lead you can market too, you start to greatly improve your ability to re-market to these customers in a much more cost effective manner.
So, you want to put the right lead magnet in front of the right customers. For instance, let's say that you decide to offer a FREE half hour engagement photo session as your lead magnet for potential wedding clients.
That is something that would convert like crazy, in fact you may want to put a limitation in your sales funnel to make sure you have the band width to full-fill the demand.
But it wouldn't convert great if you put that same lead magnet in front of your potential real estate customers.
So, remember… The more you tailor your lead magnet to your customer's needs, the more it will convert!
Photography Lead Magnet Ideas
Here are some lead magnet ideas that are sure help you convert visitors into leads, or at the very least get your wheels turning as you think of your own photography lead generation ideas.
Free 30 Minute Engagement Photography Session
10% Coupon off Your Next Session
Downloadable Checklist – 10 Tips to Ensuring Your Photographer Captures The Perfect Photos on Your Wedding Day
Free Team Photo with individual proofs
Free Drone Photography with any Wedding Package
Half Off Second Photographer
2 Bonus Hours FREE on any 8 Hour Wedding Package
I think you get the idea, but if you drive traffic to a well designed lead capture page, offering a well tailored lead generation offer like the examples above, you will greatly increase the number of leads that enter your business on a daily business.
How Sales Funnels Help Turn Your Photography Leads Into Paying Customers
Ok, so now hopefully you see how sending them to an optimized lead capture page instead of a website with a ton of navigation options, which will only lead your visitors to get confused and leave your site without taking action.
Let's talk about how implementing a sales funnel can help turn your photography leads into paying photography clients.
The most immediate way a sales funnel will help you increase revenue, is by allowing you to immediate make a sales offer after they have opted in for the lead magnet.
This is your chance to quickly put your best tailored offer in front of them by offering great value and a compelling reason to take action on site.
This could be selling a photography package on the spot, or prompting them make an appointment while you have their attention.
Some of the people that opted in will take you up on this immediate offer. Allowing you too close for action while you have their attention. This is a great time to make a sale or book an appointment.
For those that buy on the spot, your sales funnel can quickly increase your revenue even further by offering an up-sell or add-on service for an additional cost. Remember, it is always easier to get someone to buy more when they've already said yes once.
This is part of walking them through your sales process, ie, putting your customers on a guided sales journey and not leaving them to wander around aimlessly on a website.
Now, if they don't buy on the spot, you can market to these new leads using an automated email follow up series.
By using an automated email series, you can build rapport and a relationship with your leads, show off some of your best photos, and point them to the best parts in your photography portfolio, or customer reviews.
Check out are article, on the best autoresponders for ClickFunnels here.

How Can a Sales Funnel Grow Revenue For A Photographer
Ok, so at this point you maybe reading how a sales funnel can help you get more leads and sales but might still be wondering if it can truly impact the bottom line of your photography business?
So, in this section let's do some quick "funnel math", not to be confused with "funny math". I know that was cheesy but couldn't help myself.
I want to preface this by saying that this will make a lot more sense if you already know your businesses numbers. If you don't that is the first thing you need to do, is get a handle on critical information of your current online marketing efforts.
Here are the numbers you should know like the back of your hand if you want to minimize cost and maximize ROI on your marketing efforts:
Monthly Unique Visitors To Your Site
Conversion % That turn into leads
The % of leads that turn into paying customers
The Average Life-time Value of a Customer in Your Business (or at the very least, the average cart value for initial purchase)
I'll explain these concepts a little further now while showing you how adding a funnel to your photography business can greatly increase your revenue. By the way, one of the great things about using a funnel builder like Clickfunnels is that it tracks all these numbers for you.
Monthly Average Visitors To Your Website
This one is probably pretty self-explanatory, but this is the number of unique visitors to your website. This can come from organic FREE traffic, Paid advertising, or social media traffic to name a few.
The Mix of that traffic will affect how much that traffic costs your business, but ultimately the total per month is number of shots on goal you have to capture a lead or make a sale. The better you do in both of those categories, the more you can spend on driving traffic with paid traffic while remaining profitable.
For this sake of this example let's say you get 1000 visitors a month to your website. Let's say you are going to continue driving the same amount of traffic to your sales funnel. So, let's keep the 1000 visitors constant.
% of Visitors That Turn Into Leads
Your conversion rate of visitors to leads is crucial in making sure you aren't wasting valuable traffic, especially if you are paying for visitors with paid traffic sources.
The typical website might convert 1-3% of its visitors into leads. So, let's take the 3% to continue our example but that is far less common than you would think with a normal website that isn't optimized to convert like a sales funnel.
So, out of those 1000 visitors a 3% Conversion rate would mean that you are getting about 30 leads per month with your current website.
Now with an optimized lead generation sales funnel that offers a great tailored lead magnet its not unheard of to get opt-ins of 30-50%. So, if we take the low end of that number, you could turn those same 1000 visitors interested in photography services, into 300 leads instead of 30. A 10 X increase in leads.
Extrapolating That To Sales
Now sales will depend on a lot of different factors, the quality of your offerings, your pricing, your reputation, etc. Your ability to sell, but no matter what your closing rate is you can use it to figure out your potential increase in revenue.
For this example, let's say that you for every lead lead you get, you turn 20% of them into appointments, and out of that you close 50%.
Normal Website Conversion
With your normal website- 30 Leads Times 20% (Become Set Appointments) = 6 in-person appointments.
6 appointments x 50% Close a purchase = 3 New Paying customers Per Month
Sales Funnel Conversion Example
Through your optimized Photography funnel 300 Leads Times 20% (Become Set Appointment) = 60 photography face to face appointments
60 Appointments Times 50% Close = 30 New Paying Customers Per month
Now let's say your closing gets worse and you start slacking since you are too busy to care. I don't recommend that. Even if you went to a 10% closing rate, you would end up with 6 Paying customers (double what you had in the previous scenario.
What Does that Mean For Revenue.
According to WeddingWire.com the average wedding package is $2000, but we know it can swing widely in both directions from there. Hint, the busier you are are the more you can raise your prices. Got to love Supply and Demand. But, I digress.
So based on this average cost. – Your now looking at raising your monthly revenue from $6,000 dollars (Low end – 10% Close rate example, 3 customers to 6) to $54,000 Month (keeping your close rate steady, going from 3 customers to 30 a month.
Hopefully, you can see the power of high converting sales funnels for your photography business.
You can then pay more for advertising than your competitors because you are optimizing conversions. This doesn't even speak to the life time value of a customer that can become a repeat buyer from you.
I wanted to lay out the math because sometimes people baulk at the cost of ClickFunnels, which starts at $99/month for basic package or $299 for Platinum that allows you to email and do a bunch of other things. But in reality it's nothing to the potential revenue increase to your business if you implement it correctly.
Why ClickFunnels For Photographers?
ClickFunnels is the industry leader when it comes to building sales funnels. Now, do you need Clickfunnels to build out a sales funnel? No, you can have a website designer create a website for you, or you can create it yourself on a platform like WordPress.
But ClickFunnels is a hosted sales funnel builder that makes it easy to drag and drop elements onto pages. If you are someone that wants to be able to quickly design and optimize sales funnels without getting bogged down in technical hassles, then a software like ClickFunnels is exactly what you are looking for.
If you want a full review of what ClickFunnels is go here.
But, it may be helpful to check out some other local businesses and how they've used ClickFunnels to grow their business. So, you can do so here.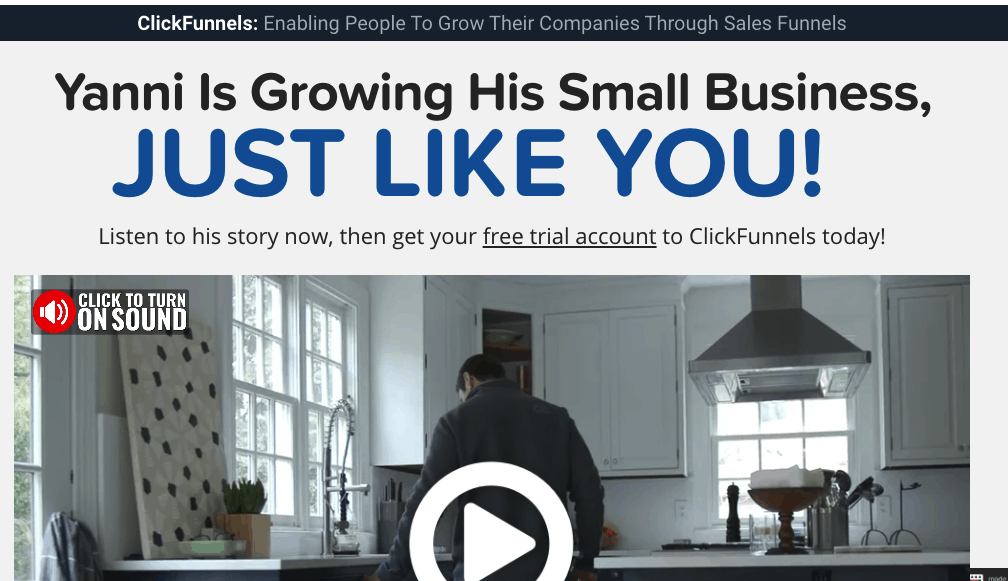 Here is some specific advice from Russel for Photographers potentially using ClickFunnels for building their business.
Alternative To ClickFunnels To Build Photography Sales Funnels
If you want to check out an alternative to Clickfunnels, we recommend Kartra. It has been on the market for about two years and offers a complete marketing system to build sales funnels and more.
The best part of Kartra is that the basic $99 version includes email marketing so you don't need an additional autoresponder to market to your photography leads.
Read our Full Kartra Review Here. Also, you can get our Free Traffic course here as a bonus for signing up to Kartra.
It's a great system and offers a bit more features on their entry plan. Either way you can't go wrong if you use them to build a sales funnels to market a photography business. I hope this was helpful.