Disclosure: Our site is supported by our readers. This post may contain Amazon Affiliate Links or links from other affiliate programs that pay us a small commission for purchases referred through them. Thank you in advance for your support!
We know that there is plenty of course options online for pretty much any subject someone might want to learn.  Our goal is to give honest and in-depth reviews of these courses that potential buyers can read prior to spending their hard-earned money. Today we are going to review Project 24 by Income School for people interested in starting Niche or Authority sites. Follow our Monthly Income School Case Study here.
CHECK OUT OUR EXCLUSIVE FREE AFFILIATE BONUSES HERE:GET FREE AFFILIATE BONUSES WHEN YOU SIGN UP WITH OUR AFFILIATE LINK
Let's start off by answering the most basic question most people are looking for, in case you don't want to read our whole review, but I would recommend actually reading it.
Is Project 24 by Income School Worth Buying? Yes, Project 24, in my opinion, is absolutely worth buying if you are looking to create income producing niche sites. The course earns an emphatic YES due to the following:
Quality of Content 
Caliber of Teachers
Amount of Information
Easy to Follow
Constant Updates 
Leader Engagement
Exclusive Access
Community 
In the remainder of this article, we will give you an inside look into the Project 24, as well as each of the positives mentioned above.
ABOUT THE REVIEWER (DISCLOSURE): It has been about 4 months since I joined Project 24. I purchased the course at the full price, $349. I didn't receive it for free to review it, nor have I been asked to review the course by Jim and Ricky.  
I have a full-time career and have been working the course at night and on the weekends so I'm not dedicating full-time effort to the course. I've probably logged over 200 hours over the last 16 weeks working on my Project 24 sites. 
So far, I've completed the 60 steps for my first site. I published the first article on niche site #1 on July 5th, 2018 and Published my last article (#30) on October 18th. I've started my second site, and so far I have 6 articles published on this site, as I've been working on between work travel. 
My Sites are still very new and the best part of Project 24 is how Jim and Ricky lay out clear expectations month by month, but we will get into that a little more down below. With that being said, I am seeing some very encouraging signs from my first site, even though most of the content is still too new. Here is a screenshot of my analytics on site number #1 (THE EARLY RETURNS ARE REALLY GOOD!).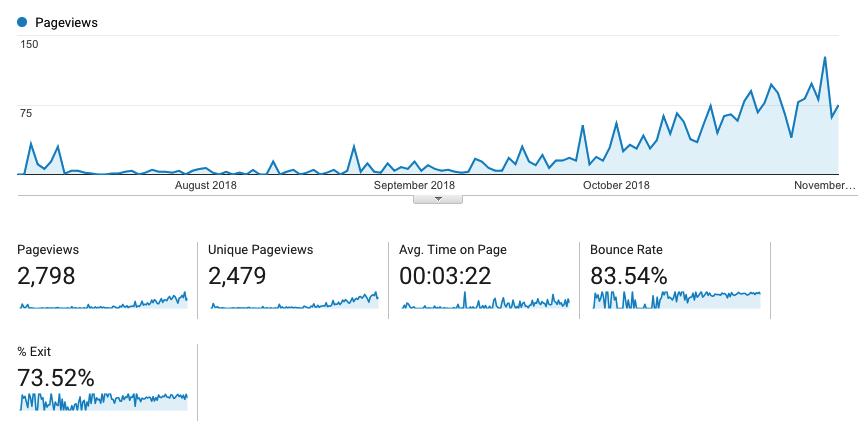 My Second site has only had articles up for about a week (only 6), so only a click or two every other day, probably bot traffic at this point.
I will also say, that I have been creating or trying to create sites for a few years, with very little success, as in none.  I had my first site created by a developer (AmericanSoccerNetwork.com) it cost 20K and never did anything.  I've created some small WordPress sites, but never got this much google love or traffic even much later into the process, but especially this early on, I think this is very encouraging about the results of Project 24.  Here is a quick review video I made- Get inside look at the course: 
I wanted to give a little context as to who I was before we moved on to the rest of the Project 24 Income School Review.
What is Income School's Project 24 Course?
Project 24 is the newest course by Jim Harmer and Ricky Kesler from Income School, it replaced Niche Site School. The course is for anyone that is looking to make money from blogging or creating passive niche/authority sites.
There are a lot of niche site courses on the web, however, Project 24 is designed to walk you through the step by step process of creating two sites- 1) An Authority Site, and 2) A niche Site that can replace your fulltime income in 24 months.
Here is the announcement video by Jim Harmer, one of the income school founders.
Here is the Full Replay of The Project 24 Webinar Jim Mentions Above:
Why Income School's Project 24 Course is Really Worth Buying!
Let's take a closer look at the reason mentioned above as to why Project 24 is a great choice for people looking to make money from blogging or for people looking to create niche or authority sites.
Quality of the Content
First and foremost the quality of the content is very good.  The video production is high quality, the only thing I would do better is share screen when they are trying to show something specific on a monitor, but as you know from their youtube channel, they usually just film the monitor.  But the production value of audio and visual is very good quality.
The site itself is easy to navigate, and the content you are getting gives you updated information on exactly what to do at each step in the process.
Calibur of the Teachers- Jim & Ricky
I think this is often overlooked when buying a course. I think often the most successful guru's are the ones that can sell the best and not necessarily teach the best. Well, I think one of Jim and Ricky's biggest assets are their personalities and disposition.  They definitely care if their students succeed and are constantly upgrading content based on feedback and challenges we are having.
They are straight shooters that give a ton of transparency and that only goes up in the Project 24 course.
Amount of Content
One of the things I was worried about was just how much more information was I going to get after all the great content they put out for free on youtube.  There is a ton of content inside of Income Schools' Project 24 course, I will lay out each of the courses in detail below. Not only that, they are always adding new content. They've added a ton of new content since I've been in the course over the last 4 months.
How Easy is the Course to Follow?
The information is laid out in a simple to follow manner, which makes it great for newbies and people of all skill levels. Even if you have experienced since they are laying out their exact formula for success, you have confidence following their site and content recipe.  They lay it out step by step for you in Project 24.
How Often is the Course Content Updated?
I've taken courses where the content is like 5 years old with no updates and that is a huge bummer. I've said it a few times, these guys are active in the forums, they are constantly adding new course content, and they are sharing what they are learning with their Project Rexburg, so as they are testing and learning new things you get it practically in real time if you are a Project 24 member!
Course Leader Engagement from Jim and Ricky
Again this isn't like many other courses that you sign up for and maybe you get a weekly webinar from a couple of instructors but not necessarily the guys you signed up to learn from.  Jim and Ricky are there, they are present in both the forums and in their constant updates, as well as their Project 24 Site Reviews!
Exclusive Access only Project 24 Members Get
If you are an income school student inside of Project 24, you will get exclusive Podcast, Vlog, and inside information that you don't get on the Youtube channel. Access to all their sites, and information fresh off the presses.  Not to mention an ability to ask them direct questions about your site in the forum, that they really try to answer.
Project 24 Community – Your Secret Weapon
The project 24 community is great and they really are a great resource for inspiration and questions. You get to go on this journey together and learn from each other, take on challenges together, and make each other better.  Be careful not to spend too much time in the forums or you won't finish your sites.
What Do You Get Inside of Income School's Project 24?
I know one of the questions I always have when thinking about buying a course, is exactly what is included in the course.  I've always wished I could have a sneak peek behind the curtain or look over the shoulder of a current student before purchasing a course myself.
That is what I intend to give you with the next session of the review. I will pull back the curtain and give you an inside look at the Income School Project 24 Course so you can make an educated decision before purchasing.
When you join Project 24 and log in, you will be brought to the project 24 dashboard which houses all the courses within project 24, as well as a running feed of updates by Jim and Ricky.
This will be your main hub page to navigate to the different lessons you will want to take in project 24.
Currently, there are 12 Courses included inside of Project 24. 3 of which have been added in the last few weeks. That is one thing I really want to emphasize. Project 24 is constantly being updated and improved throughout my time in the course. So the content included is already worth well more than the price of the income school course.
Let's take a closer look at each of the courses included.
Project 24 Course #1: 60 Steps to A Successful Site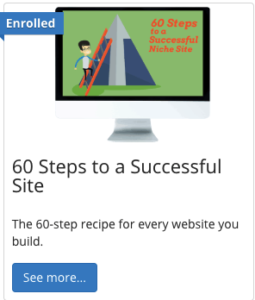 This is the course that I've spent the most amount of time in. This course includes 60 steps that walk you through setting up a new site, the content mix recipe that Jim and Ricky use on every site.
Also, it walks you through the design of the site, promoting your site with Pinterest and Youtube.
If you follow these steps one by one, you will have your first niche site seed in the ground. You then repeat this 60 step formula for each additional site you want to create.
Project 24 Course #2: Picking a Profitable Niche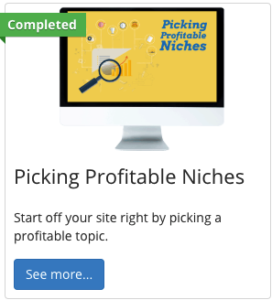 In this Income School Course, Jim and Ricky walk you through 1,51-minute video on exactly what you need to do to find and research profitable niches.
I followed this process for my 2 niches sites, and it can take a second to wrap your head around because it's so simple, but when you go back and watch it again it makes a lot of sense and will have you finding an endless list of niche ideas.
Project 24 Course #3 No Nonsense SEO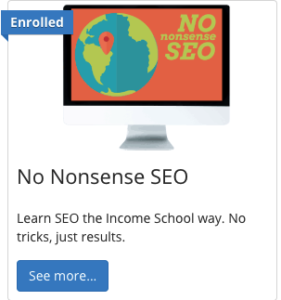 In this 50 Minute Video, Jim and Ricky show you exactly how to create quality content that ranks without any tricks or expensive tools.
This is worth the price of the course by itself, as you aren't caught spending hundreds of dollars every month on expensive SEO tools as other courses recommend. Jim and Ricky will show you how to do your SEO without tools, and you know what, following their advice my site is ranking and getting traffic (see above) in a couple months.
Not only is the method cheaper, but it is also evergreen as aren't trying to fool Google with tricks it will erase with a future algorithm update.
Video Outline
Welcome and Introduction (00:00)
Why we don't do what most people call "SEO" (01:10)
Writing Good Headlines (05:06)
Keyword Research (16:00)
Long Posts Win (27:30
The Post Recipe (29:56)
The Content Mix (34:58)

Response Posts (36:05)
Staple Posts (40:34)
Pillar Posts (43:05)

Why we write the posts in this order and where it will take us (45:25)
Project 24 Course #4: Traffic Snowball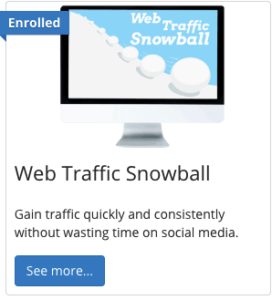 In this video, Jim and Ricky go over some common mistakes that many new site owners make when it comes to social media.
They explain exactly what to expect when it comes to your web traffic and how to spend your time so you get the best ROI for your time, especially when it comes to social media.
Project 24 Course #5: Email Marketing 101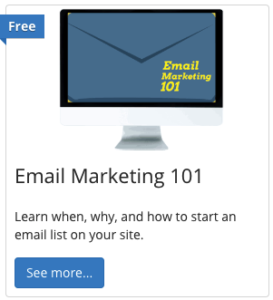 This course consists of 7 lessons that go over the basics of email marketing. I haven't taken this course yet but here are the lessons included.
Why you might or might not want to have an email list for your site
How to get started with a free email list and scale up from there
How to use the email list to engage your readers and turn them into customers
Project 24 Course #6: Myth Busting (Keyword Golden Ratio)
This lesson helps to debunk the KGR or keyword golden ratio that many people trying to create niche sites and find low competition keywords get caught up in.
I know I did, I wish I would have taken this course before creating that site that essentially cost me money and time with no real traffic to speak of.
This is one 11 minute lesson you won't want to skip if you are skeptical about forgetting some of those old keyword research tactics you've been using in the past.
Project 24 Class #7: Hire and Training Writers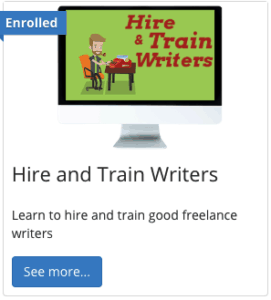 In this 5 lesson course, Jim and Ricky lay out a 10 step process to hiring and training writers for content creation.
They include videos to help you train writers on the blog post recipe.
I have been writing all my own content up to this point but plan on hiring writers eventually so this will come in handy.
Project 24 Class #8: Photography Start

This massive 22 lesson course goes through the basics of photography and how to create high-quality images for your sites.
This would be a course that some people would charge for by itself. I think it helps that Jim's first site is Improve Photography but still they really did think of everything by adding this one.
Project 24 Class # 9: Review of Project 24 Sites
This is pretty cool. Jim and Ricky actually allow users to send in requests to review their project 24 sites.
They create 10-15 minute videos where they give feedback to the site owner on how to improve the site or the progress they've made so far but used it as a teaching tool for the whole income school project 24 community.
Project 24 Course #10: Improve and Speed Up Your Writing
This is one of the new courses that was just added to project 24. It really came from the feedback of users that were saying it was taking them longer than the estimated time to create their articles
Jim and Ricky went to work and created this 9 lesson video course that walks you through exactly how to write an article with the post-recipe.
It really helped speed up my writing and I'm now pretty much meeting their time estimates to create content.  They got the same feedback from other Project 24 members as well. Another great example of the program always evolving and getting better.
Project 24 Course #11: Monetize Your Site With Ads
Another New Course that was added in the last couple of weeks. This course goes over how to monetize your site with ads.
It also includes options for new sites that don't have the traffic for some of the other premium ad networks.
I signed up for one of the ad networks a couple of days ago.
Project 24 Course # 12: The Success Mindset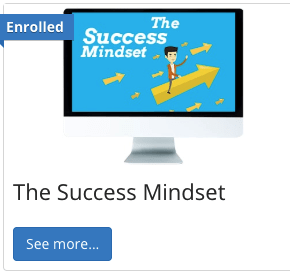 This is the third new course added in the last few weeks and came out of the 2-day meeting they had in Idaho in October.
It covers having a success mindset and dealing with Fear and Uncertainty that holds people back.
How Is The Income School Project 24 Community?
One of the most important factors of any quality, of course, is having access to an engaged and supportive community.
Project 24 is very lucky to have a very engaged community that is supportive and willing to help you out if your questions or doubts.  From technical issues, niche ideas, keyword research, the forum is a great source for getting consistent help and feedback as you take your niche site journey.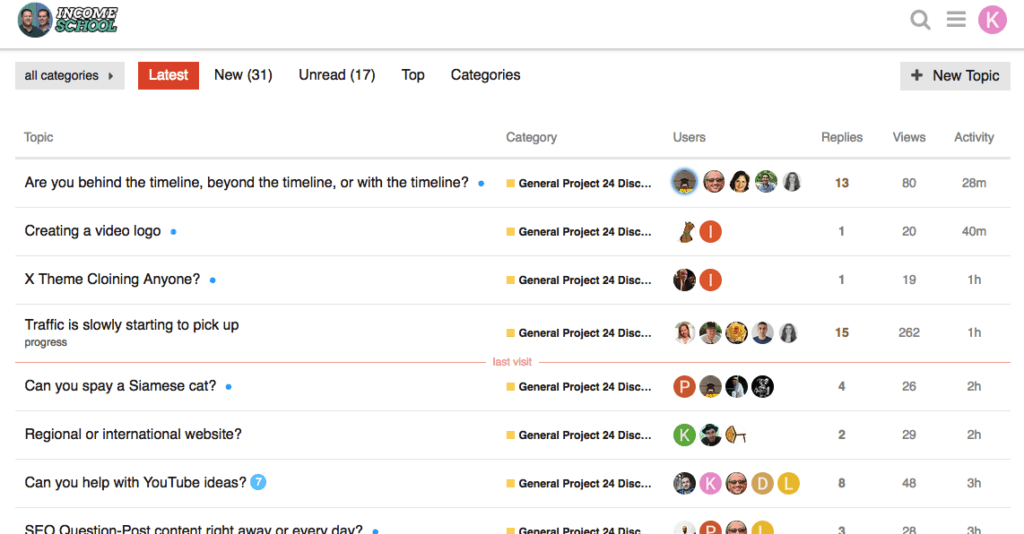 This is something I go on at least once a day for help and inspiration. Just be careful not to spend all your time on the forum when you should be working on your sites.
Exclusive Access for Income School Project 24 Members
Another great feature of becoming a project 24 member is the exclusive content that you get.
You will get access to exclusive project 24 podcast (2 seasons thus far), plus a VLOG.  You also get access to their other sites that aren't public on Youtube.  You know a lot more than you do from the Youtube videos, and that says a lot considering how transparent they are!
Conclusion- Why Project 24 is Worth Buying
Hopefully, the peek behind the scenes has helped you understand exactly how much great content you will get if you join project 24.
Jim and Ricky are great guys, and the epic content you get on their youtube channel really comes together in their Project 24 course. I know I didn't have as clear a picture on exactly what to do until I joined the course.
You will find out exactly what you need to do to craft articles that rank- and that really is the name of the game. Now that I've started seeing the results myself, as shared above, I really think this program is well worth the money.
As someone who has purchased a lot of course before, this is one that I've actually followed and have confidence will work if I put in the work.
There is no shady link building or PBNs that will get your site taken out by Google, so the work you put in will last!
FOLLOW OUR PROJECT 24 CASE STUDY WITH MONTH INCOME SCHOOL UPDATES
Here is an updated list of project 24 results, we plan on having monthly updates through the conclusion of our 24 month journey.  Each of the monthly progress reports will include traffic and income results of our p-24 sites. See the running list of updates below. GET FREE AFFILIATE BONUSES WHEN YOU SIGN UP WITH OUR AFFILIATE LINK
Remember you can start your project journey today.